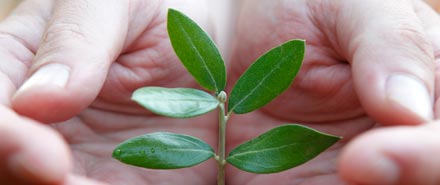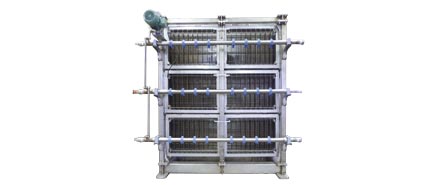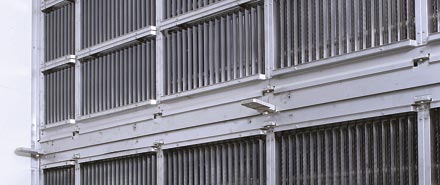 Mode of Operation
Technical Construction

>> 2x Electrostatic
Filter-Cell
In the ECCOEP, too, the dust particles are first charged electrostatically in the ionizer section 1, then repelled by the parallel-mounted high voltage plates 4 and removed at the grounding plates 5 .
In order to further increase efficiency, in the ECCOEP we have arranged two electrostatic filter cells serially, making the highest degrees of precipitation possible.
4-stage Filter System
In the 1st stage, sawtooth-shaped ionizer blades 1 , arranged between grounded electrodes 2 , generate a strong electrostatic field where the dust particles 3 are charged in the airflow. A part of these particles adheres to the grounded collector plates 5 (2nd stage) and is already removed in the first electrostatic filter cell.
Subsequently, in the second electrostatic filter cell the remaining dust particles are charged or ionized once more (3rd stage) and completely removed in the second collector (4th stage).
Cleaning with oscillating Wash Nozzles
Cleaning of the electrostatic filter cells is done using a fully automatic wash system with flat beam nozzles and an oscillating wash system.
Thus the cleaning effect is much better than with rigid nozzle systems with lower water pressure at the collector plates. For the ECCOEP, this results in optimized cleaning with comparably low water consumption.
Information to dust filters for road tunnels
Contact us!
Distributor
Videos
Reference Projects