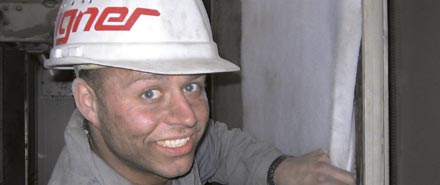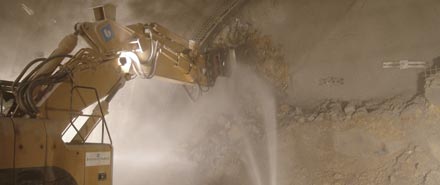 ECCO DUST
Fields of Application
For portal dedusting or dedusting at exhaust openings with large air volumes

Mode of Operation
Fresh air 1 is generally introduced directly into the working area 3 via extensible ventilation ducts 2 . Dust produced e.g. by blasting or milling 3 or stirred up by trucks driving in the tunnel 4 is filtered and clean air is blown out into the open through the tunnel portal or an exhaust opening after filtration 7 .
The design of our ECCODUST filter system is based on the tried and tested ECCO filter technology for exhaust air cleaning of road tunnels. As the particles released by tunnelling are much larger than e.g. diesel soot, removal is done purely mechanically, using a special filter media.
The ECCODUST is cleaned by aspiration of the filter media. The cleaning process can be triggered fully automatically by measuring differential pressure or by means of an intelligent timer. The dust produced is removed in a particle filter and can be disposed of simply and quickly using dust bins or Big Bags.
Information to dust filters in tunnels under construction
Contact us!
Distributor
Reference Projects
Videos